I am looking for a location

What does childcare cost?

Request a guided tour

  Zoek een vestiging

 Wat kost kinderopvang?

  Rondleiding aanvragen

Welcome to Childcare Mirakel
The best care for every child!
For more than 30 years, Kinderopvang Mirakel has been synonymous with providing quality. We take care of your child, we listen, sing, read and talk to your child. In order to give an extra touch to the day, we offer a number of special activities, such as music lessons, toddler gym, toddler plus programs and workshops for children from 4 years old. Mirakel also takes care of its employees, they are our foundation, we take care of their further development so that they can grow in their field of expertise. Pedagogical professionals work at Mirakel, they are our Super Pro's!
Mirakel has 11 locations, 5 of which are nurseries and 6 after school care locations in Amsterdam Buitenveldert and Amstelveen Zuid. We offer care for babies, toddlers and children from 4 years of age and it is also possible to arrange only holiday care.
Would you like to taste the atmosphere at a location? We are happy to plan a guided tour!

Use the online app for Bitcare now!
Bitcare: the online app for all registration
With this online diary, communication with parents about their child and child planning is integrated into one system. As a parent you can log in and see what your child is experiencing at Mirakel at any time of the day. For example, you can see when your child slept, ate and drank. Reporting absence, sickness or vacation can also be done digitally through the Bitcare app and makes your data instantly transparent.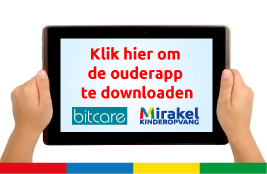 Contact
Mirakel headquarter
Visiting address:
Parlevinker 19-21
1186 ZA Amstelveen
Tel: 020-6613035
info@kdvmirakel.nl